Invention of teeny-tiny organic films could enable new electronics
The first cell phone, released in 1983, was the size of a brick and weighed two-and-a-half pounds. The newest Apple Watch, released this fall, weighs 1.1 ounces.
These kind of technological leaps have been made possible by finding new and inventive ways of combining materials, which can pack more information and circuitry into smaller and smaller packages.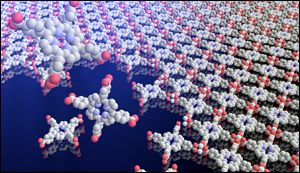 In a first, scientists at the University of Chicago, in collaboration with researchers at Cornell University and Argonne National Laboratory, have discovered an easy, efficient way to grow extremely thin films of organic materials. In this case, the team took its inspiration from the stubborn separation that happens when you mix two liquids that don't mix, like oil and water. In essence, they used the line that forms between them like a mold to create a perfect thin, flat film. The findings, published in Science, could be a stepping-stone to future electronics or technologies with new abilities.
Read more at University of Chicago
Image Credit: Baorui Cheng
-jk-