Batteries with fluorinated electrolytes that work at very high and low temperatures
Electrolytes are chemical components that enable the flow of ions between the cathode and anode inside batteries, ultimately providing electrical power to technological devices. Most conventional and readily available non-aqueous Li-ion batteries are fabricated using carbonate-based electrolytes.
Despite their widespread use, the highly flammable carbonate electrolytes greatly limit the temperatures at which a battery can operate correctly due to their high affinity between their chemical solvents and the ions inside batteries. This results in most carbonate electrolytes-based batteries only functioning safely between -20°C and +50°C, or at voltages between 0.0 and 4.3V.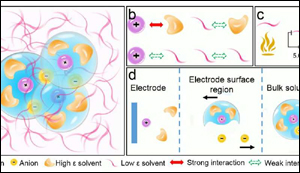 With this in mind, a team of researchers led by professor Chunsheng Wang at the University of Maryland in the US and other scientists at Zhejiang University in China have recently fabricated a new type of battery that can work at a broader range of temperatures, using fluorinated electrolytes with non-polar solvents. These fluorinated electrolytes are non-flammable, enabling a high electrochemical stability within a broader range temperatures and voltages than carbonate electrolytes.
Read more at Tech Xplore
Image Credit: University of Maryland
-jk-