Astronomers are already planning the next, next Hubble telescope
The James Webb Space Telescope (JWST) will be the largest and most powerful space telescope ever produced, an incredible addition to humanity's search of the stars - when it's launched in 2018.
Yet even before the JWST has been assembled, space scientists are looking forward, dissatisfied in advance with the limitations posed by a mirror that is only two and a half times as wide as Hubble's. Their solution? The High Definition Space Telescope (HDST), which is proposed to launch in the 2030's with a mirror almost twice as large as the JWST's.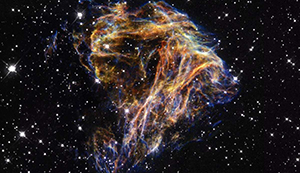 JWST will look primarily in the infra-red portion of the EM spectrum, while Hubble incorporates more long-wavelength visible and near-IR light, allowing different sorts of investigations. A true Hubble successor, one that could pick up and continue its historical quests with updated technology, would require a whole different launch. JWST is Hubble's successor mostly because it will be the largest and most famous piece of space technology.
So, while the increase in resolution allowed by the HDST's increased size would certainly be helpful, it's the ability to take different sorts of readings that could motivate science organizations to pool their money and fund this enormous venture. AURA projects that costs could rise to $10 billion or above, but the JWST itself has cost something like $8 billion, so with decades in which to fundraise that might not end up being such a lofty goal.
Read more at ExtremeTech
Image Credit: NASA
-jk-