3D-printed transparent skull provides a window to the brain
Researchers at the University of Minnesota have developed a unique 3D-printed transparent skull implant for mice that provides an opportunity to watch activity of the entire brain surface in real time.
The device allows fundamental brain research that could provide new insight for human brain conditions such as concussions, Alzheimer's and Parkinson's disease. The research is published in Nature Communications. Researchers also plan to commercialize the device, which they call See-Shell.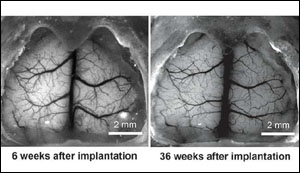 "What we are trying to do is to see if we can visualize and interact with large parts of the mouse brain surface, called the cortex, over long periods of time. This will give us new information about how the human brain works," said Suhasa Kodandaramaiah, Ph.D., a co-author of the study and University of Minnesota Benjamin Mayhugh Assistant Professor of Mechanical Engineering in the College of Science and Engineering. "This technology allows us to see most of the cortex in action with unprecedented control and precision while stimulating certain parts of the brain."
Read more at University of Minnesota
Image Credit: University of Minnesota
-jk-